---


YOU MUST ALWAYS FILL IN THE CUSTOMS DECLARATION AND DISPATCH NOTE CORRECTLY
Return all *AJH* knives by
REGISTERED
mail, and fully
INSURED
for the knifes's sales value.
On the Custom's section of the form enter "Knife for Warranty repair" and "Returning to USA"
Enter Value = NCV (NoCommercialValue) to #4.
Enter
"Total value = $x.xx" to #9.
(this is your knife's purchase value - rounded to hundreds what you insure it for)
I recommend you go to your Post Office, pick up this shipping form, take it home and fill it up as per instructions: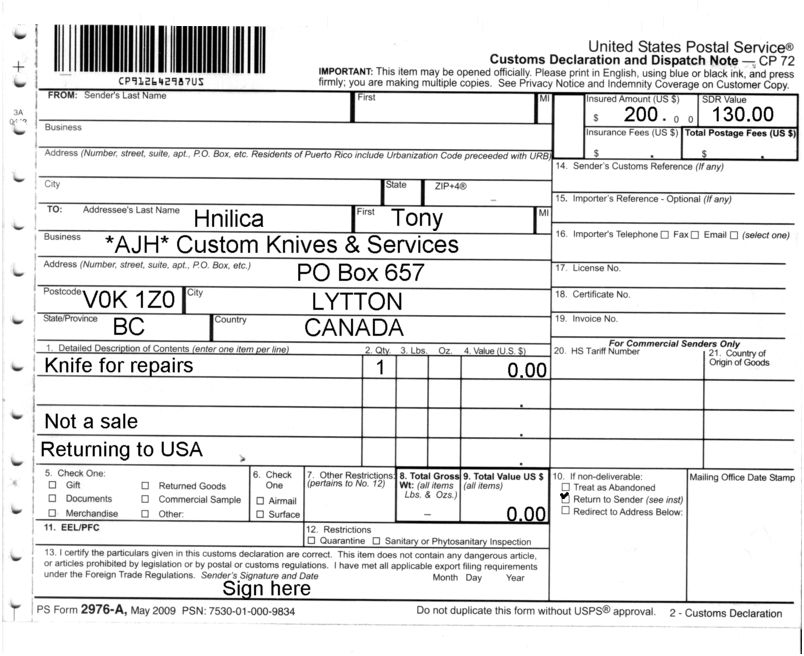 In the example form here your knife's value is $350.00 and insurance value is $350.00
SDR for the November 2012 is
U.S.$1.00 = SDR 0.655768
x 350=$229.52
Value for duty is $0.00.
Please, do include your contact information - return address and your email - in the package.
Thank you for your patience and understanding
Top
|
Prices
|
Payment
|
Custom knives
|
Knife repairs
|
AJH Custom Knives front page
Index - top | Suppliers - listing form | Link Exchange Request Form Master Index | Exotic wood Index | Australian woods
---

Created and maintained by Tony Hnilica