| | |
| --- | --- |
| | Impregnated-Stabilized & Dyed wood |
IMPREGNATED & DYED WOOD
Wood stabilization was developed about 25 years ago.
These woods have been impregnated with monomers and acrylics to produce a dimensionally stable wood. Some advantages of this nearly perfect knife handle material are:



| | |
| --- | --- |
| Advantages | Minimizes or eliminates: shrinking, cracking, checking, expanding, warping, will not absorb water, impervious to salt water, oils, stains, dyes and chemicals, sanding does not raise the grain, takes a very high polish, stands up to temperature changes. |
| Working | Works just like regular unstabilized material, but much better |
| Finishing | Sanding with 800 grit, 9 micron or crocus cloth followed by buffing on a clean loose buff with 312 Lea Compound gives outstanding lustrous finish. |
| Polishing | It has been observed that after stabilization, the figure in the wood is enhanced. Colors are more vivid and the grain more pronounced. |
| Selection fee | Selection of woods of exquisite color or figure cost sometimes 2-3 times the base price, particularly rare exotics and the burls |
| Safety | Always use proper respiratory protection to protect your lungs from dust generated by sanding or other stock removal methods, and use proper eye protection too. |
STABILIZED WOOD
You can buy it in scales or blocks and also can send in your own wood to be stabilized.
Almost all exotic hardwoods are available stabilized and also available is stabilized Antler, Stag, Oosic, horn and Ivory.

Examples of stabilized materials


ANTLER, STAG, OOSIC, HORN & IVORY
ASH BURL
BLACK ASH BURL
BLACK OAK BURL
BIRDSEYE MAPLE
BOX ELDER BURL
BUCKEYE BURL
CHERRY BURL
CURLY MAPLE
CALIFORNIA BUCKEYE BURL
FIDDLE BACK MAPLE

MADRONE
MADRONE BURL
MAPLE BURL
MESQUITE
PALM WOOD
REDHEART
REDWOOD
SPALTED ASH
SPALTED MAPLE
THUYA BURL
TIGER MAPLE BURL
WALNUT BURL









As sold by
Ironwood from Don

Custom Stabilizing Available

K & G Finishing Supplies
Custom Stabilizing and Dyeing Available

Wood Stabilizing Specialists International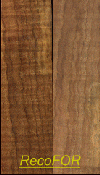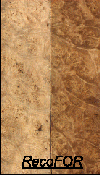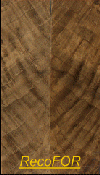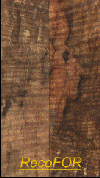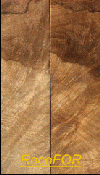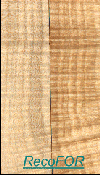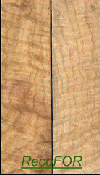 The above wood is stabilized by

RecoFOR Specialty Woods
The stabilizer used is a two part penetrating epoxy not to be mistaken for Methyl-Methacrylate stabilizers. It is light weight yet strong, durable to impact or wear, it is porous and accepts finishes well. will shine up to a nice polish with buffing.
No pressure or vacuum is used in the process.
STAMINA WOOD
Is another wood laminate, utilizing wood veneers that have been dyed, than impregnated with phenolic resin and compressed under high pressure and heat. The result is a material that can be worked with woodworking tools, than sanded and polished to a hi luster.


Block Size
1-1/8" x 1-1/2" x 5"
Stamina wood colors
BLACK /RED
CAMOUFLAGE
EBONY
GOLDEN BROWN
ROSEWOOD
SCARLET
CHROMAWOODŽ
CHROMAWOODŽ is natural wood in its original form, stabilized by complete penetration by a special blend of monomers and acrylics.
This stabilized wood can be machined to within a +/- .0005 inch.
Wood Stabilizing Specialists Inc. (WSSI) uses its unique process to stabilize ivory, bone, horn, hardwoods, softwoods and gemstones.
Stabilized material is not changed except that its color / figure is enhanced and it does acquire a high degree of permanent durability.

WSSI says that no other wood can compare with CHROMAWOODŽ for color, weight, durability, strength and water resistance.


Clear Chromawoods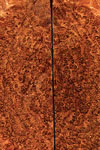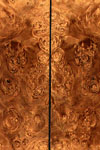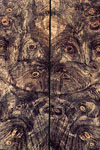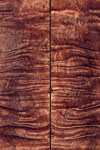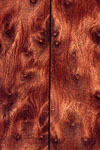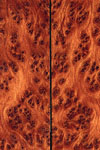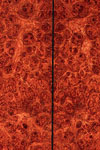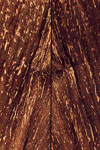 Black Ash Burl - clear
Box Elder Burl - clear
California Buckeye Burl - clear
Maple Burl - clear

Redwood Burl Maple - clear
Thuya Burl - clear
Amboyna burl
Speckled Myrtlewood
Double Dyed Woods










Available directly from the manufacturer:

Wood Stabilizing Specialists International&nbsp, IONIA, IA



TIGER STRIPE RESINWOOD
Resinwood made from resin impregnated natural wood with beautiful depth and color, easy to work, and polish. Available only as single color scales 3/8" thick.



| | | | | |
| --- | --- | --- | --- | --- |
| COLOR | Winewood | Walnut | Cocobolo | Desert Camo |
Listed in the catalog of:


Texas Knifemaker's Supply



Front page
|
Master Index
|
Laminat Index
|
Custom Knives
|
Page menu
|
Feedback
Index - top
|
Suppliers - listing form
|
Link Exchange Request Form
Master Index
|
Exotic wood Index
|
Australian woods
---

Created and maintained by Tony Hnilica