| | |
| --- | --- |
| | ,H1> |
Art/Fantasy | Bowies | Daggers/Letter Openers | Fillet knives | Hunters | Scrimshaw | Blades-12-14 | Knives on SALE | Contact | Custom Knives
Blade # Y2K

Letter opener - 440-C double edged 5" blade.
Overall length is 9.75" - Copper, Brass and Lapis inserts go through the blade.
440-C Dagger 3/13" x 3-1/2"

Elvira-2000
Rendition of the famed prop dagger in the unique open belt sheath.
Embelished by 37 jewels, genuine Gold Leaf over brass, bronze and silver handle.
Belt Buckle Knife
440-C blade - Nickel Silver pins, bolster, rivet, guard and wire slip - fossil bone handle
440-C Persian Scimitar 10" x 1/4"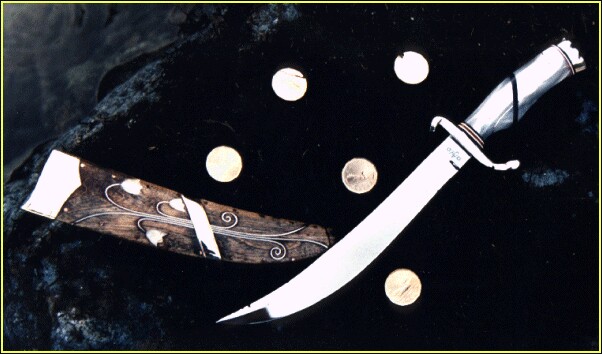 Scabbard - Maple with silver wire and Mother of Pearl flower inlay, brass and N/S plates and tip, copper rivets.
Knife - 10" 440-C double edge blade, guard - forged N/S lions paw
Handle - Mother of Pearl with ebony and silver wire inlay. Ebony and N/S spacers and N/S carved pommel.
Art/Fantasy | Bowies | Daggers/Letter Openers | Fillet knives | Hunters | Scrimshaw | Purse Knives | Blades-12-14 | Knives on SALE | Contact | HOME
---

Created and maintained by Tony Hnilica